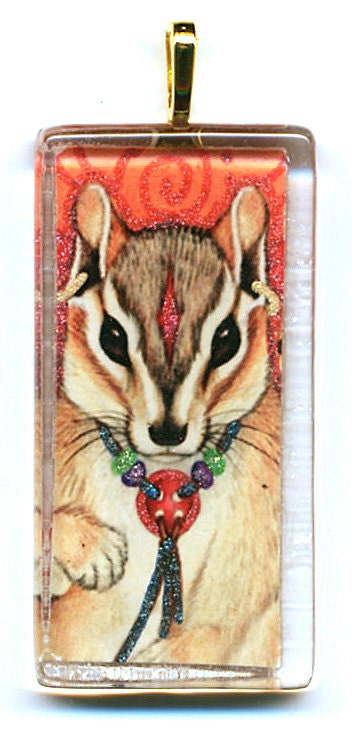 This is just a reminder to everyone about things I currently have for sale.
New pendants are available on Etsy. Several new awesome designs like this little guy here! These pendants are made of tempered glass (which means they are super hard to break) with a miniature print sealed to the tile. I hand decorate each pendant, which is sealed and signed on the back by me. Choice of gold or silver bail. The come cordless so you will have to provide your own cord or chain. $30 each plus shipping!
http://www.etsy.com/shop/goldenwolfart
I have plenty of stock of my t-shirts by The Mountain available! These are pre-shrunk 100% cotton tees that look great! These are printed on a crinkle-style tie-dye shirt, the signature Mountain look!
I also have t-shirts of "Spirit Hunter" and "Raven Lord" available, digitally printed on Gildan 100% cotton tees.
$25 each plus shipping
T-Shirts on Goldenwolfen.com
I still have a few of the "Feed Me Cupcakes" werewolf sticker left! Get them before they are gone for good!
$6 each plus shipping
Stickers on Goldenwolfen.com
Right now I have three originals available for sale! These include "Raven", "Emissaries", and "Blood Rage". $300 or less! Here's your chance to own an original work of art by me!
Originals on Goldenwolfen.com
You can also purchase these originals through my
Etsy page
.
As always matted and unmatted prints of my artwork are available on my website. These are high quality, professional grade prints using Claria inks that will last a lifetime! All prints are signed in gold by me and the large, limited edition prints are signed and numbered. Once all the prints in that run are sold out that large print will no longer be available! Prints start at $12 for unmatted/loose and are only a few extra dollars more for matted! I do all of my own matting and framing as well :)
Prints on Goldenwolfen.com
Please support your favorite artists and buy their products and wares! Every dollar helps us keep on creating the art you love <3